New page #16 | October 14, 2014 | 10:25 PM
Issue 3: Page #16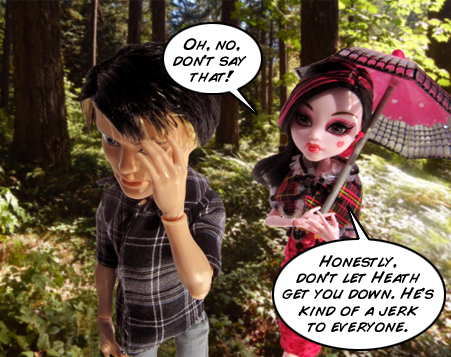 Leave a comment | Posted in new page
A few site-ly things | October 05, 2014 | 9:28 PM
Just a few housekeeping items today—I do have some new pages done, but my goal is to try to finish issue 3 in the next week or two, and release all the new pages in a batch. :-) In the meantime, I've got a new feature on the site: an RSS feed! I wanted to have this option available for readers who might be checking for status updates in other places than Tumblr. (I usually prefer to have update feeds on Dreamwidth or LiveJournal, for example.) You can find it here, or by clicking the syndication icon in the sidebar to the right -->

I also wanted to check in with my readers about an idea that's been floating through my mind. I've had a wishlist going with items that I need or would like for upcoming issues, but I haven't had a lot of success tracking stuff down. I'm probably going to have to wind up getting some things on eBay, which stinks since people overcharge so ridiculously for Monster High stuff.

One of my friends suggested I put a PayPal donate button on the sidebar—that way, people who might not have the items I'm looking for, but who still want to help, can pitch in a couple of bucks to help me save up for some of these pricier items. At the very least, I could use it to buy some of the new stuff that's coming out in stores, since my income's been tight since I started having my health problems.

What do you guys think? Would that be something you'd be interested in contributing towards? If there's enough interest, I could try to come up with some rewards, like what you see on Kickstarter campaigns or something. (And of course, donating would be 100% optional/voluntary!)

Let me know what you think in the comments!
Leave a comment | Posted in site updates
New page #15 | September 12, 2014 | 6:07 PM
Issue 3: Page #15


Leave a comment | Posted in new page
New page #14 | September 12, 2014 | 6:06 PM
Issue 3: Page #14




Huge thanks to my sister Lizzie for taking the pictures for this page ♥

Sunglasses clipart from Clker
Leave a comment | Posted in new page
New page #13 | September 12, 2014 | 6:04 PM
Issue 3: Page #13




Huge thanks to my sister Lizzie for taking the pictures for this page! ♥
Leave a comment | Posted in new page
<< Newer
1
2
3
4
5
6
7
8
9
10
11
12
13
14
15
Older >>